We're in the midst of trying to find a new home right now, and it is taking ALL of my effort not to spend every waking moment deliberating about what is right for us. Cooking has been my sanity. It is my creative outlet, and my peaceful meditation practice. It gives me time to be present in my body and out of my mind. I am forever grateful that you guys have given me the opportunity to spend more time doing what grounds me and fills me up!
If you follow many vegan blogs will will have undoubtably heard the name Ashley Melillo of Blissful Basil. Her take on vegan cooking is a lot of fun (lots allergen free pizzas and tacos). I also love that most of her recipes are refined sugar free and have tons of modification options (e.g. nut-free, grain-free, raw etc) for every style of diet.
This weeks meals are inspired by her blog and her cookbook that I adore: Blissful Basil: over 100 plant powered recipes to unearth vibrancy, health and happiness. She has a photo for every recipe which is a MUST for me. I very rarely make a recipe if I haven't seen a photo first. She also uses more nuts and seeds for sources of plant based proteins and healthy fats for those of you who notice the effect of eating beans more frequently. This also fits in nicely with a plant based ketogenic(esque) diet. Some of her recipes ARE a bit light on protein because of this IMHO, but I've amped that up using hemp seeds, or tempeh/tofu where necessary:
Roasted cauliflower and brussels salad with tahini cilantro vinaigrette – Im a sucker for any roasted veggies with tahini sauce
Buckwheat apple cranberry and avocado salad – a request from Camilla. Thank Camilla! I love requests. (*nutritional info)
Sweet potato cranberry and quinoa power bowl – Cranberries are such an under appreciated fruit! Tons of antioxidants, and very low GI (*nutritional info)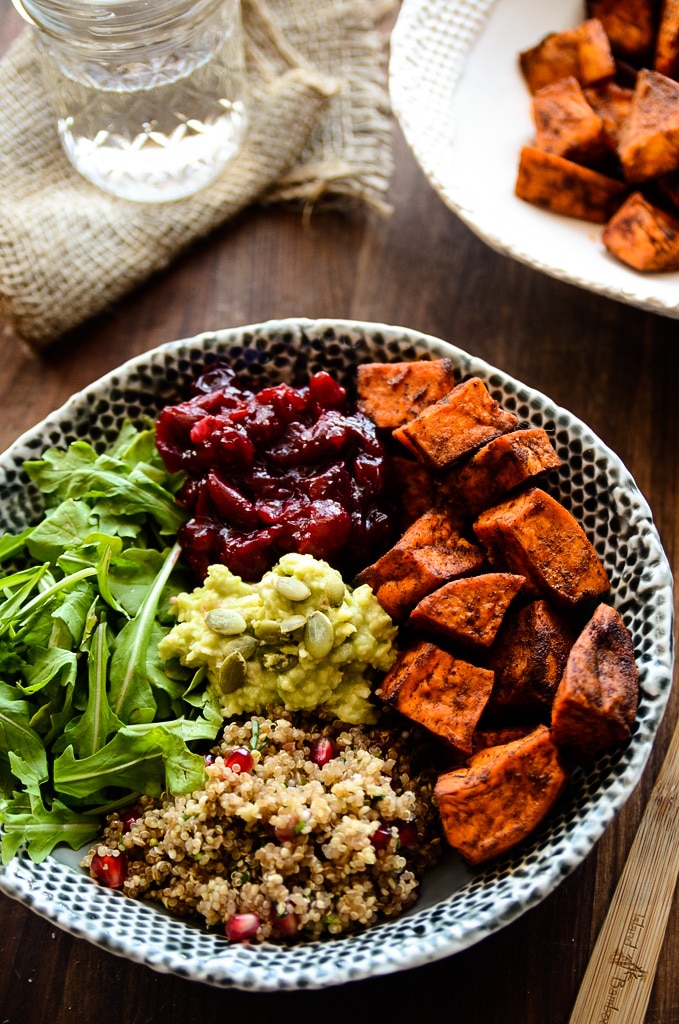 Yellow split pea & spinach curry with brown rice – This one would be nice heated up, but also can be eaten cold or room temp (*nutritional info)
Tuscan kale and white bean stew – Because, rain, ya know? (*nutritional info)
Power balls and almond oat cookies are always available too! (see last weeks post). As always message me to order.
Until next week, Eat wild my child. PCE